Well the end is almost upon us and we are preparing to leave Moti Pethan on Tuesday. It is going to be a very tearful departure from the village but we still have a few more days to spend in Mumbai before we fly home to the cold and wet. We managed to celebrate Christmas Day and Sunesh's birthday in some style on the local beach. Although the nights are getting cooler, the days are still very comfortable 30 degrees plus. However, that doesn't seem to stop the locals donning jerseys, bobble hats and scarves!
I might not manage to do much blogging in Mumbai although I suspect they will have connection speeds I can only dream of out here. We all wish you a very happy new year and thanks for the Christmas messages – apologies if I haven't replied to you all individually but it is a painfully slow process at times. Looking forward to seeing everyone again soon, Iain and family x
This week we went shopping to Surat by train. The highlight for the children was finding Pizza Hut and Baskin Robbins ice cream. The train journey was also very entertaining.
There is a proper footbridge, but I think it's just for tourists.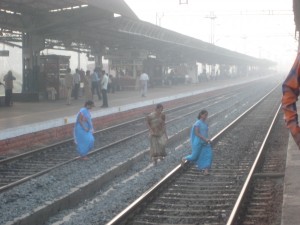 Anya enjoyed the freedom from rules and regulations. Not only are there no windows on a train, but the doors seldom close either.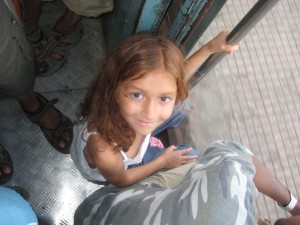 I had to disuade the boys from travelling first class air-conditioned on account of it already being over-booked.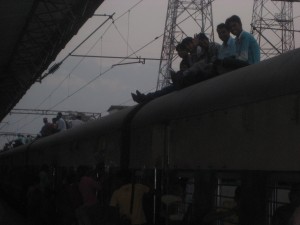 For some reason Surat has a scaled down version of the Eiffel Tower. Perhaps someone better informed than me can shed some light. (Lennard? Thanks for correcting the fishy error earlier, smart alec)
There was a wedding this week which is another excuse for everyone to get a free lunch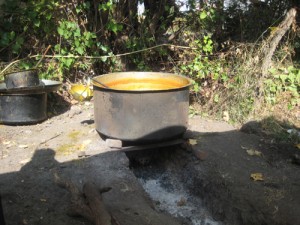 If school dinner was more like this I think more children would go for them – I certainly would! Maybe the teachers should do the serving?
The main event happened in the evening when the groom arrived
The groom in his Elvis-inspired outfit is welcomed in to the family
Then the fireworks begin.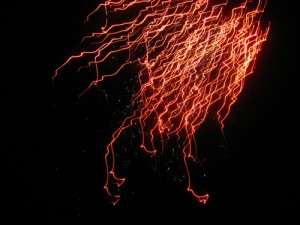 On Christmas morning the children awoke to find a thick layer of fresh snow outside in the garden and stockings stuffed with cheap Indian goodies! (OK, the snow bit is a lie…)
The party just carried on the next day as Sunesh found a few birthday presents had followed him overseas.
On Christmas Day and Sunesh's birthday we managed to spend the afternoon on the local beach at Dandi. I hear it is cold in the UK. Ho hum, tough luck for some!
Anya gets ready to take on the Indians at their own game